Legion of Clean is proud to serve Jefferson County, North Kitsap and parts of Clallam County since 2016.
Are you looking for a reliable, quality and professional company to clean & sparkle your home or office in Jefferson County, North Kitsap and parts of Clallam County?
Legion of Clean is a professional cleaning service ready and available to SPARKLE any space! We create the stress-free environment you deserve by caring for your home or office just as we do our own. Our trained staff is dedicated to providing top notch cleaning services while treating your home and family with the utmost respect.
Legion of Clean is a privately owned business that provides residential and commercial cleaning services for Jefferson County.  You will benefit from our competence, as Legion of Clean has consistently delivered outstanding results.
Our Cleaners – Legion of Clean's employees are hired after successful background checks. Our staff is fully trained and easily recognizable by their Legion of Clean uniforms.
Stefani's Cleaning Services is now Legion of Clean
Hello Friends,
Stefani's Cleaning Services has had the pleasure of serving our community for nearly four years. We are very excited for the future growth within our company! Stefani and team are delighted to announce that our company name will be changing as of December 20, 2019 in order to best represent our growing clientele and amazing professional staff.
Our new name is: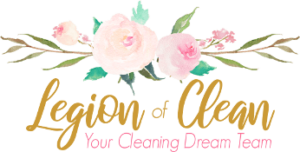 Over the next few months, you will start noticing changes, such as our uniforms, website, ads and signage.  Our commitment to our customers remains our highest priority. Rest assured nothing will change, and that we will continue to provide the same great service. If you have any questions, please don't hesitate to call.
All the best,
Stefani & Jake Hathaway
Owners
360-344-8409